Step 1
Once logged in, select the mob-based species you are working with. Under the Nnotify the database of:' section select the action 'Mob-based movement off my property' or 'Mob-based movement onto my property'. Click 'Go'.

---
Step 2
Click 'type in the details' and then enter details in the compulsory fields (marked with a red star). Click 'Continue'.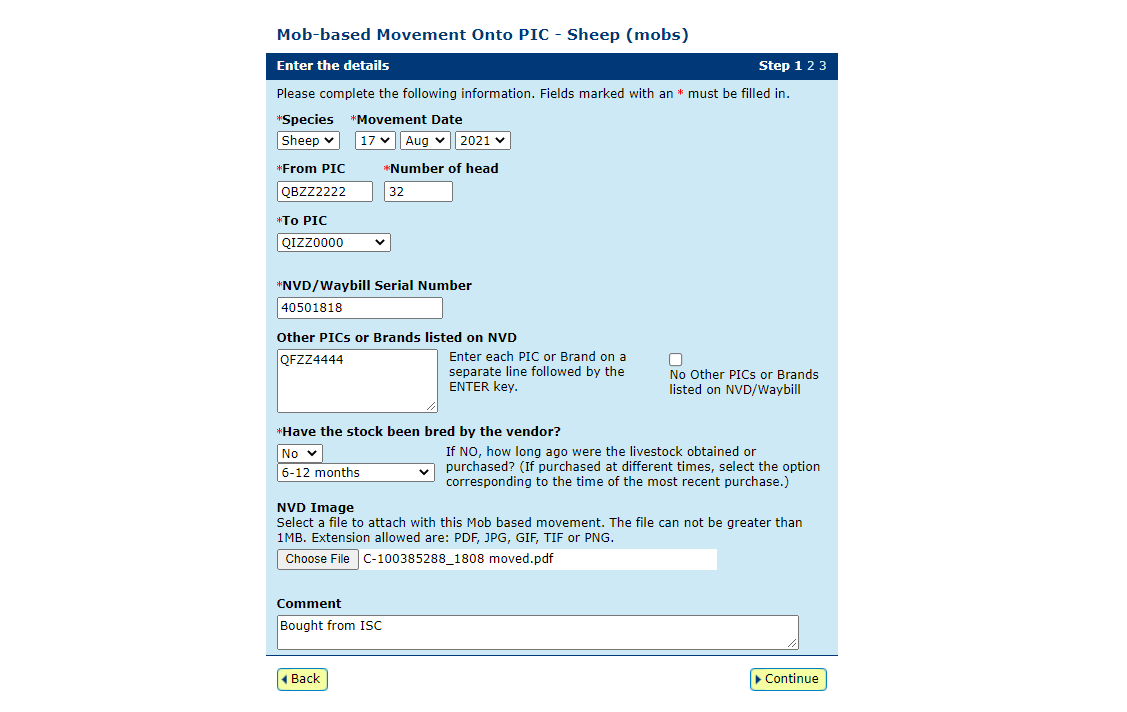 *QUICK TIP:
- If the mob includes stock that have not been bred by the vendor, you must enter the other PICs printed on the tags into the 'Other PICs or Brands listed on NVD' box.
- If you want to attach a copy of the eNVD or NVD/Waybill form related to this mob, click 'Browse' and select the file from your computer. Do not include special characters e.g. '&' in the name of your file. When completing an eNVD, download the document to a pdf manually or take a photo of your hardcopy NVD/Waybill to upload.
- You can enter a comment of up to 255 characters about this movement, but do not include special characters such as full stops or commas.
---
Step 3
Confirm the details you have entered are correct. If you notice an error, click 'Back' to update those fields. With the data correct, click 'Continue' to submit the information to the database.

---
Step 4
The database will provide a receipt on-screen. It's recommended to record the 'Upload ID' or to 'Print this receipt' for reference.
*QUICK TIP: To ensure the transfer was received by database, click 'View my transaction history' to check the status of your 'Upload ID' is marked as Complete. If another status is shown, you will need to read the generated email for specific details about the outcome. These other status notes may be:
Warning: the transfer is complete but a tag or tags were marked with a message that you will need to investigate / review.
Error: one or more tags were not able to be moved and need your review or investigation.
Failure: technical issues occurred with the database and the movement was not completed.
Bad Format: there were errors in the preparation of the .csv file. Review and or contact ISC Customer Service on 1800 683 111.

*QUICK TIP: Record the 'Upload ID' provided after each transfer. If details are incorrectly submitted, you will need to immediately conduct a Transfer correction action. This action only amends details of the previous transfer and will request the 'Upload ID' of that transfer. If you notice an error in earlier transfers and need to correct it, contact ISC Customer Service on 1800 683 111.