On July 1, 2023, Integrity Systems Company (ISC), a wholly owned subsidiary of Meat & Livestock Australia (MLA) commenced a three-year project to develop a new and improved traceability platform to replace the 23-year-old National Livestock Identification System (NLIS) database.
This significant project is being supported by a $22.5 million funding grant which was announced by Australia's Department of Agriculture, Fisheries and Forestry on September 15, 2023.
This funding forms part of the Australian Government's 'Bolstering Australia's biosecurity system' package.
Minister for Agriculture, Fisheries and Forestry Murray Watt released a statement about the NLIS Uplift Grant on September 15, 2023 and it can be found here.
Updates on the project as it unfolds and answers to frequently asked questions will be posted on this web page. Below is an overview of the work which will be undertaken in each stage.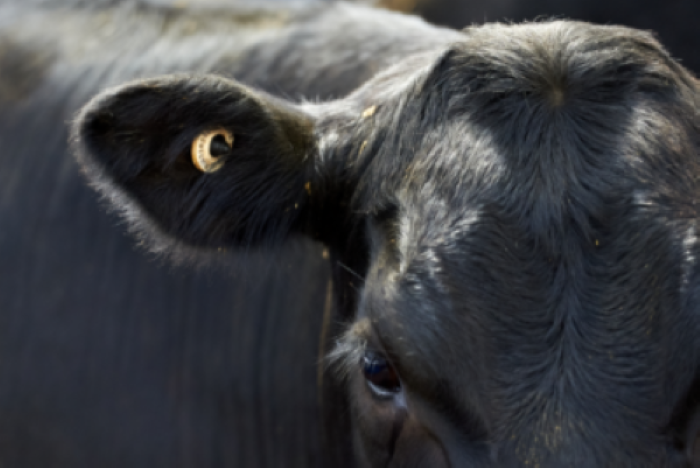 NLIS Uplift Project stages
The NLIS Uplift Project consists of six stages. Work on the first two stages commenced on July 1, 2023, and it is expected the final stage, which will deliver a new, easy to use and future proofed NLIS platform, will be completed by June 30, 2026.
Here is a summary of the work which will take place during each stage:

Stage 1:

Project establishment and strategic discovery (1 July to 31 October 2023)
The project's objectives and scope will be defined during a comprehensive strategic discovery process with ISC, industry, government stakeholders and other key parties. Governance frameworks will also be established with reference groups formed representing each jurisdiction and the red meat sector.
Stage

2: Discover and define (1 July to 31 December 2023)
End-user engagement will take place to ensure the new NLIS resolves current pain points and that all requirements are included in the new platform design. This will ensure a user-centred approach is applied as the platform's user journey and user experience are assessed.
Stage

3:

Architecture and design

(1 December 2023 to 31 May 2024)
The underlying infrastructure which will support the new NLIS will be designed using the information gained during the first two stages. End-users will continue to provide feedback on the user experience. A change management plan will also be developed.
Stage

4: Software build (

1 June 2024 to 31 December 2025

)
During this stage the technical designs for the new platform will be built with end-user engagement and showcases ensuring timely feedback on platform features prior to deployment. The change management plan will be executed to support a phased rollout of platform features.
Stage 5

:

Phased deployment and transition (

1 October 2024 to 3

0

June

2026

)
A phased rollout of the new platform, including data migration, will take place in this stage. System monitoring, alerting, and customer support for the new NLIS will also commence. Users of the new system will be supported during onboarding.
Stage 6

:

Decommissioning and project closure

(

1 Jan 2026 to 30 June 2026

)
The current NLIS database will be decommissioned with all users transitioned to the new system. The project will conclude with the delivery of a final monitoring and evaluation report and final project report.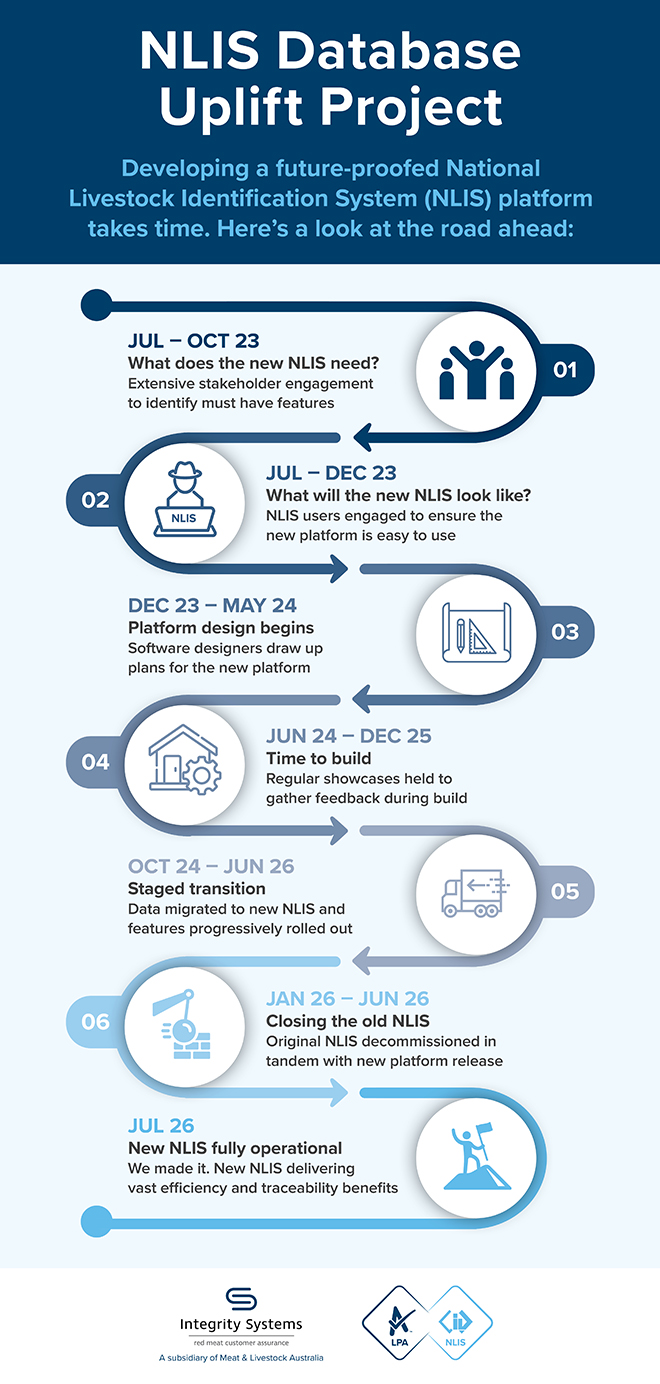 Want more information about the project?
Email us at communications@integritysystems.com.au