Vision
The Australian AgriFood Data Exchange has a vision to create an interconnected data highway for Australia's AgriFood value chain.
The Australian AgriFood Data Exchange seeks to provide a digital platform that enables​:
The permissioned exchange of data between AgriFood industry participants​
Timely access to information that supports decision making for the AgriFood value chain​
Release management capacity
Standardisation and consistency of industry data assets​
The capacity to adapt, incorporating new use cases for data exchange that deliver value and support resilience of AgriFood value chain participants ​
Increased transparency of AgriFood industry data to support multiple use cases (e.g. regulatory compliance, collaboration between public & private data sets)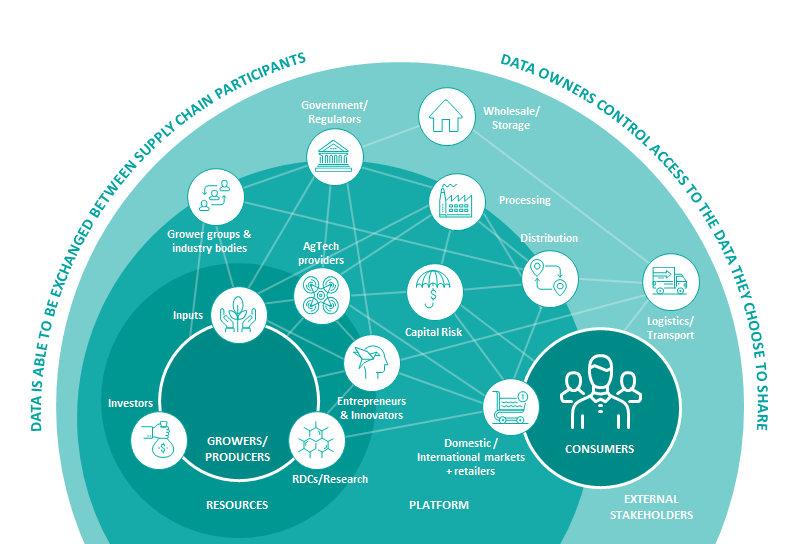 Primary use cases for informing the Australian Agrifood Data Exchange design
Following industry consultation, prioritised use cases of the Australian AgriFood Data Exchange include reducing the burden of regulatory compliance, identifying and anticipating biosecurity risks, benchmarking performance to inform decision making and bringing traceability to the entire value chain. Further use cases will be considered as additional funding comes into the project.
Experimenting with different methods of data exchange, technology vendors and sharing data for these four use cases will occur in 2022 to help test and refine the requirements and policies for the Australian AgriFood Data Exchange.
Experiments to be undertaken
Centralised data for compliance and certification for the sheep meat and wool sector, following supply chains in Victoria and NSW.
Biosecurity and contamination information for wine grapes moving across border from NSW and Victoria into South Australia.
Voluntary benchmarking for comparisons and decisions for grains producers in Western Australia.
Compliance and traceability for rock lobster quota in Western Australia.
For further detail on these use cases please see the animated videos above, or download the prospectus at the bottom of this page.
Supporters
The project has received support from the organisations below and the Honourable Andrew Robb AO has been appointed Independent Chairman to lead the governance and direction of the project.

Experiments have now concluded
Following the Request for Information earlier this year, we received strong interest from very capable domestic and international technology vendors. The Evaluation Team completed the selection process and we have now appointed four vendors to deliver the experiments with the working groups between December 2021 to March 2022. Congratulations to:
AxisTech (appointed to deliver the benchmarking experiment for the grains industry)
Eratos (appointed to deliver the biosecurity experiment for viticulture)
Rezare (appointed to deliver the compliance and certification experiment for sheep meat and wool)
Telstra / IBM consortium (appointed to deliver the traceability experiment for rock lobsters).
A final demonstration day was held on 29 March 2022. Over the course of the day we heard from industry, government and technology partners on the value and future potential of a data exchange for Australia's agrifood sector.
The four use case experiments were then showcased by our local and international technology partners, to demonstrate different methods of enabling data exchange and how these could add value to the agrifood sector for specific use cases across biosecurity, traceability, benchmarking and compliance.
Download a graphical summary of the Demo Day held on 29 March 2022 or watch the video below.
Register your interest
Register your interest in participating in future events or to support the project more broadly by using the form below.
If you have any questions or if you would like more information please email the Project Management Office.