The Australian AgriFood Data Exchange (AAFDX) is an initiative designed and overseen by members of the agrifood industry to enable participants to share, reuse and merge data from disparate systems in a secure environment on a permissioned basis. MLA has played the lead role in coordinating the co-investment funds and IP management for the supporters of the AAFDX project.
The AAFDX seeks to enable generation of insights while also stimulating sustainable entrepreneurship and consumer assurance. The aim is to support participants in the industry to leverage common data sharing infrastructure so that they can make their data do the hard work and gain greater insights and benefits from being a data enabled industry.
It is anticipated that the establishment of the AAFDX will be a significant growth engine and innovation driver for Australia's agrifood sector across the supply chain. This includes being an enabler for the AgriFood Tech industry to support access to wider data sources and customers, as well as leverage common infrastructure and interoperability standards.
AAFDX project supporters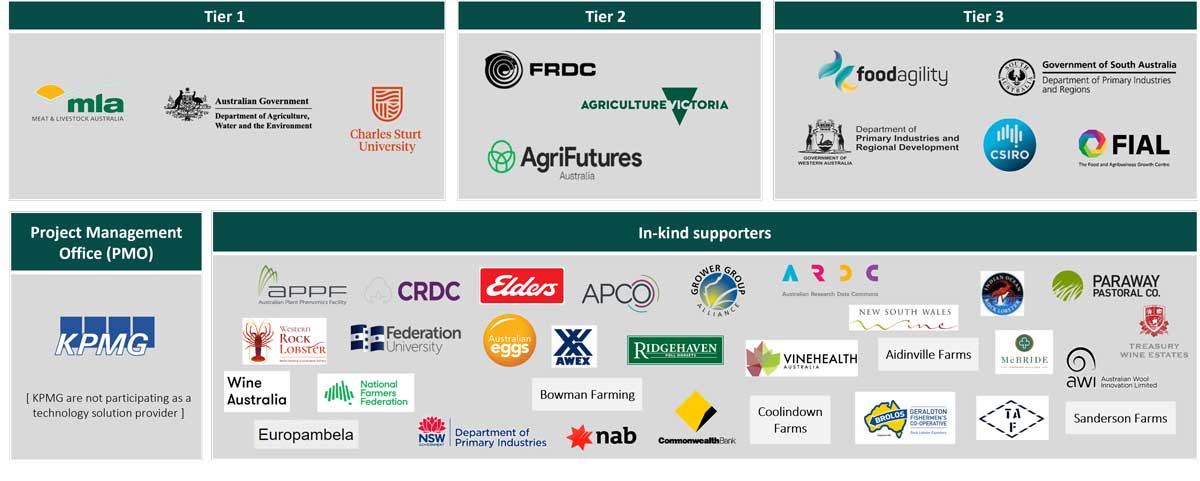 All major agrifood sector stakeholders have a significant interest in improving the agricultural and food data ecosystem. However, the diversity of participants in the Australian agrifood sector has meant that past efforts have been uncoordinated, contributing to a market failure of incomplete information, restricted to specific commodities, and lacked sufficient resources and impetus to facilitate change across the whole of industry.
Additionally, disparate and siloed data, along with the lack of interoperability between systems is significantly hampering adoption of supply chain technologies. By contrast, other established and emerging agrifood exporting nations include Germany, the UK, the Netherlands, and the USA are making significant investments in data infrastructure to take advantage of the increasing digitisation of farm systems and food and fibre supply chains.
Vision of AAFDX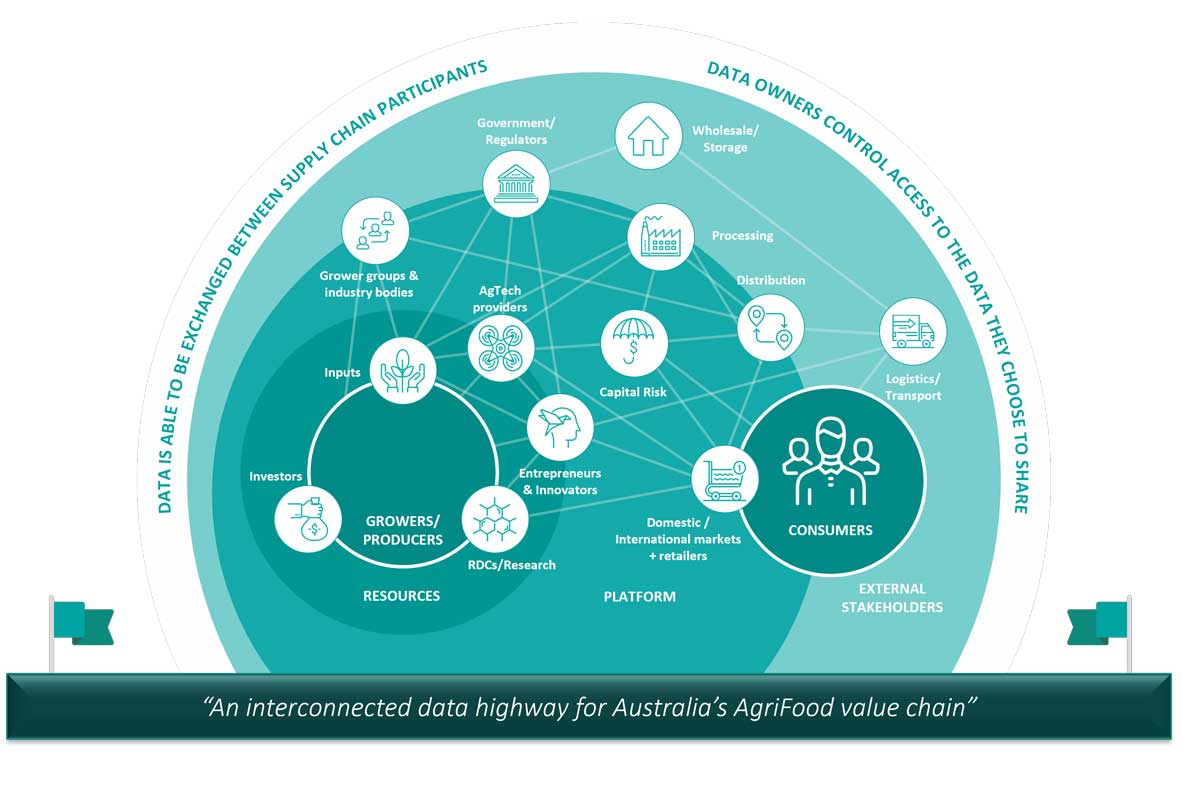 The Australian AgriFood Data Exchange has a vision to "create an interconnected data highway for Australia's AgriFood value chain" and seeks to provide a digital platform that enables:
The permissioned exchange of data between AgriFood industry participants to encourage the sharing of data and value creation.
Timely access to information that supports decision making for the AgriFood value chain.
Release of management capacity and return of valuable time.
Enable the agrifood tech industry to publish and ingest wider data sources, access more customer data, and leverage the common data sharing infrastructure and marketplace.
Standardisation and consistency of industry data assets.
Flexibility to react faster for market access.
The capacity to adapt and incorporate new use cases for data exchange that deliver value and support resilience of AgriFood value chain participants.
Increased transparency of AgriFood industry data to support multiple use cases (e.g., regulatory compliance, collaboration between public & private data sets).
A mechanism to connect disparate data sources.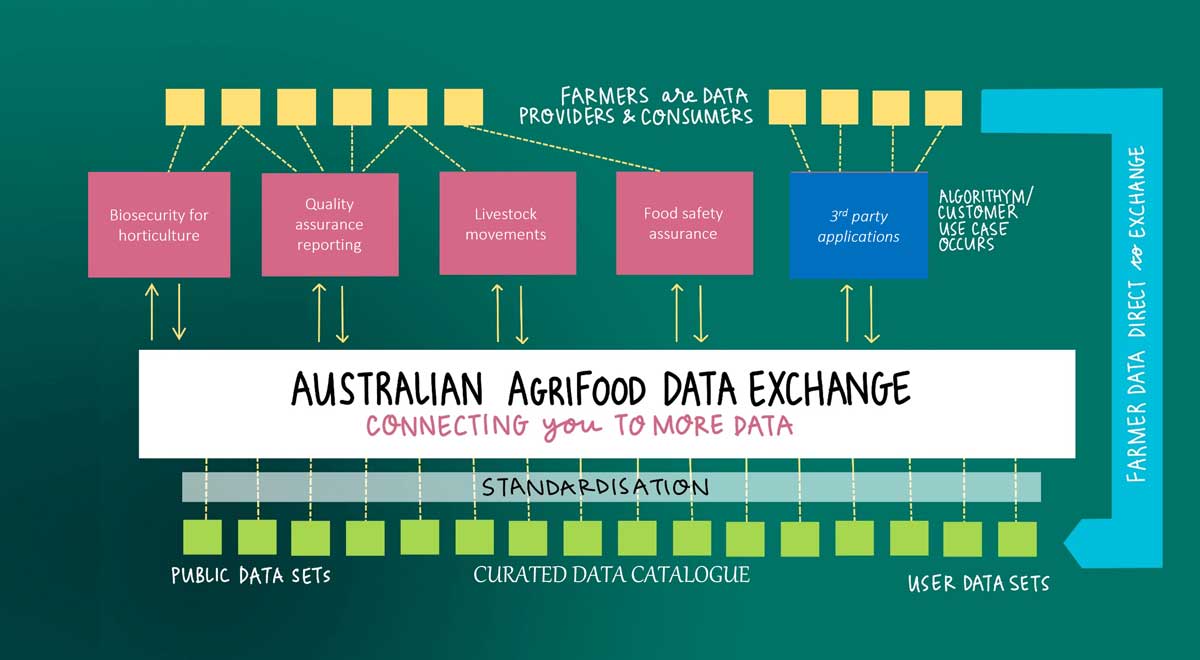 The AAFDX technology stack and core services for the Minimum Viable Product (MVP)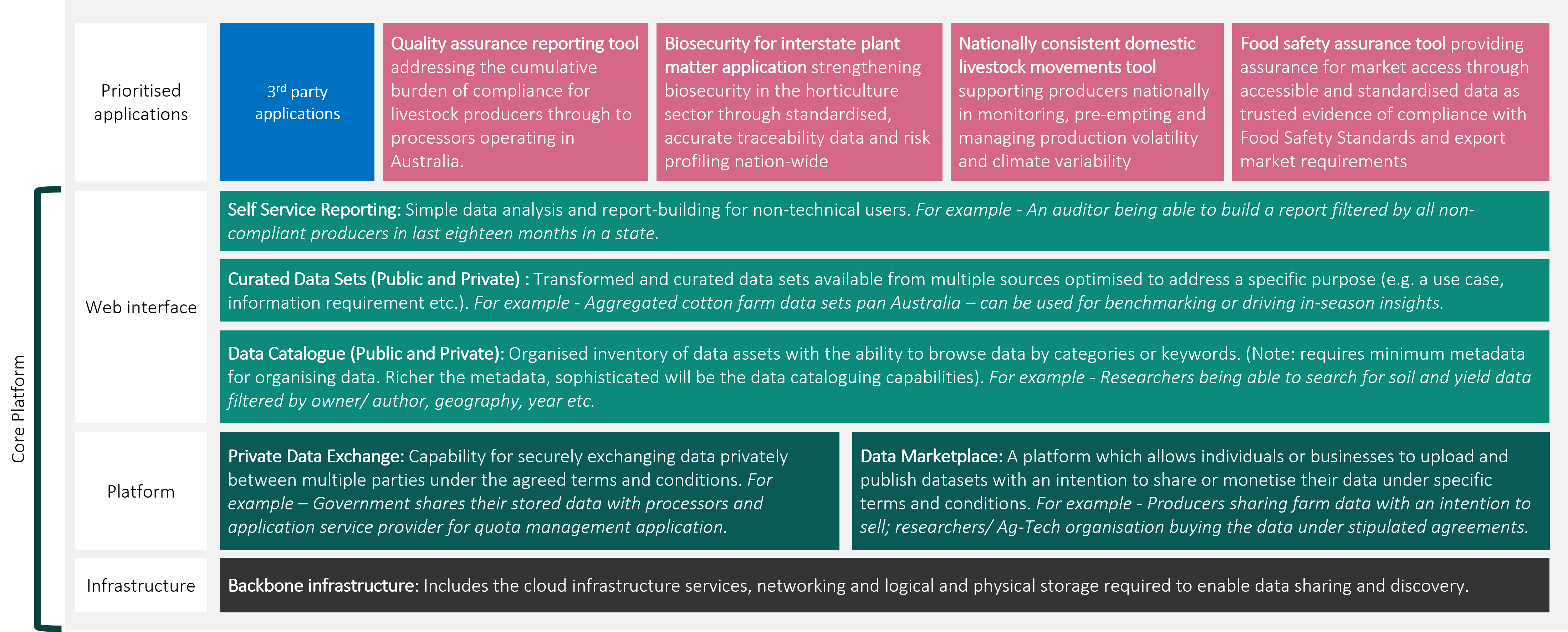 How the AAFDX is intended to realise value for industry stakeholders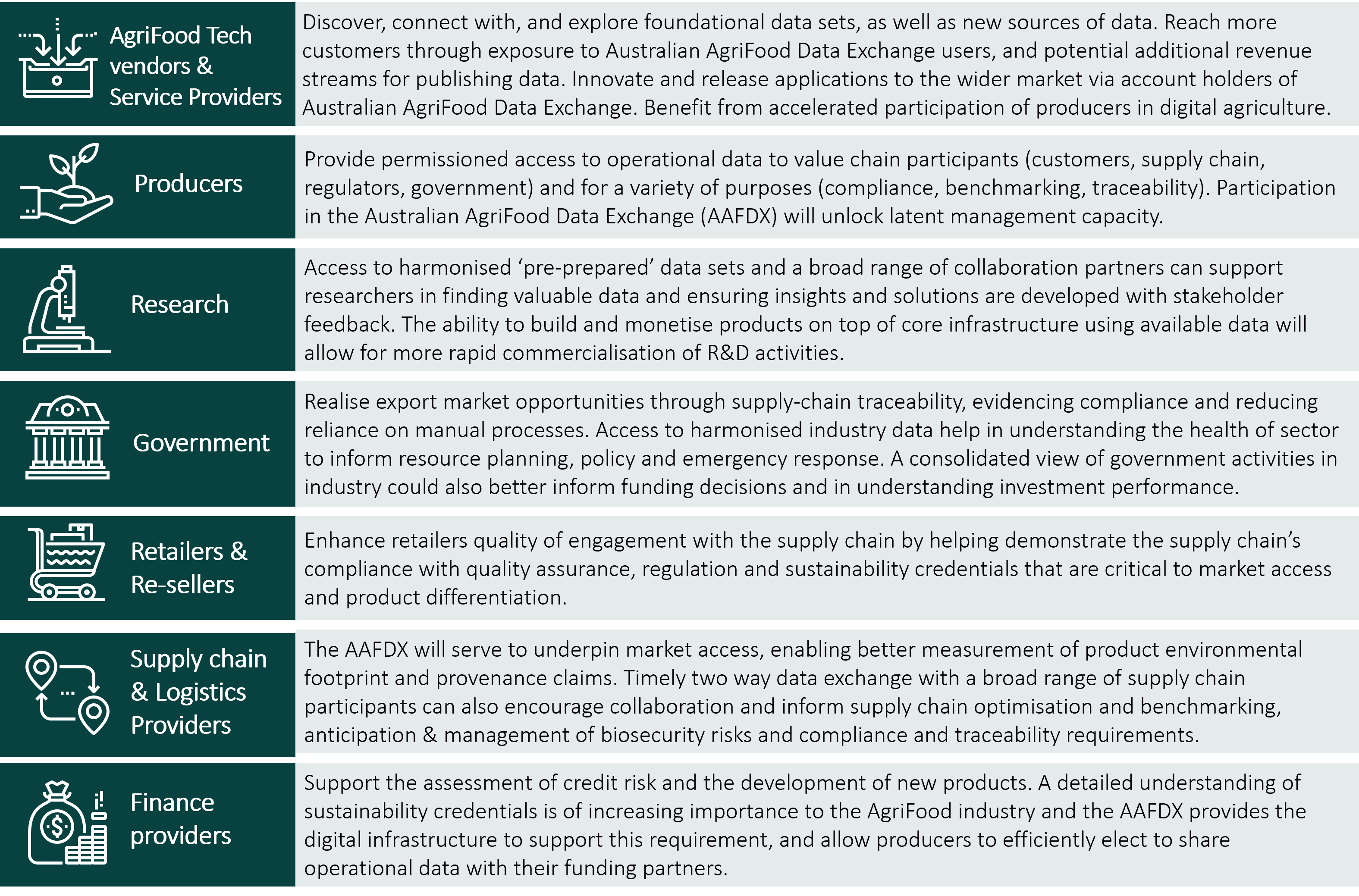 Videos showing some of the Use Cases the AAFDX seeks to enable:
Biosecurity and contamination information for wine grapes moving across border from NSW and Victoria into South Australia.
Voluntary benchmarking for comparisons and decisions for grains producers in Western Australia.
Compliance and traceability for rock lobster quota in Western Australia.
Demonstration Day and Design Workshops
On the 29th of March 2022, an AAFDX Demo Day was held, where over the course of the day industry, government and technology partners shared their perspectives on the value and future potential of a data exchange for Australia's agrifood sector.
Four experiments were showcased by local and international technology providers, to demonstrate different methods of enabling data exchange and how these could add value to the agrifood sector for specific use cases across biosecurity, traceability, benchmarking, and compliance. Importantly these experiments involved participants in the four supply chains sharing data and designing new ways of working to create greater value from data at an individual and system level.
To hear from industry leaders on the impact the AAFDX will have on their industries and organisations, as well as the technology providers that led the four experiments, watch the recording of Demo Day below.
On the 30th of March 2022, following Demo Day, agrifood industry participants and project stakeholders were invited to attend a series of interactive design workshops to inform the DNA of the planned AAFDX service.
These design workshops provided attendees with the opportunity to have their say on important matters, such as how the future service will best address governance and security of users' data, as well as the customer experience levels you would expect from a world-class data exchange. The risks and challenges the AAFDX will face as it is formed and delivered, as well as opportunities and benefits that could be realised as the service scales to support multiple agriculture sectors and supports wider data products were also explored.
Ultimately, both workshops helped framed the technology requirements and design, in addition to informing the business case to support the operational and funding requirements for the AAFDX.
View the Industry Design Workshop video showcasing insights from industry leaders on the value and impact of this workshop series towards the overall design of the AAFDX below.
Project timeline
The AAFDX is an ambitious, complex and multi-phased program requiring significant investments to bring the vision to life, and the need to build confidence for supporters. The multi-year program of work has been established as follows:

Register to get involved and stay connected with the AAFDX project
Learn more about how to participate in the AAFDX project by registering your interest using the form below. From December 2022 the project team will begin outreach to parties interested in contributing to funding the establishment of the AAFDX. Interested parties are also invited to register using the form below to arrange a discussion about the future investment opportunities, structure and governance of the AAFDX organisation.
If you have any questions or if you would like more information please email the Project Management Office.
© 2023 Meat & Livestock Australia Limited ABN 39 081 678 364. You may not copy, republish, download, transmit, communicate, or otherwise use this content in any way without the prior written consent of Meat & Livestock Australia Limited ABN 39 081 678 364. Any such enquiries should be directed to info@mla.com.au, or the Content Manager, PO Box 1961, North Sydney, NSW 2059.